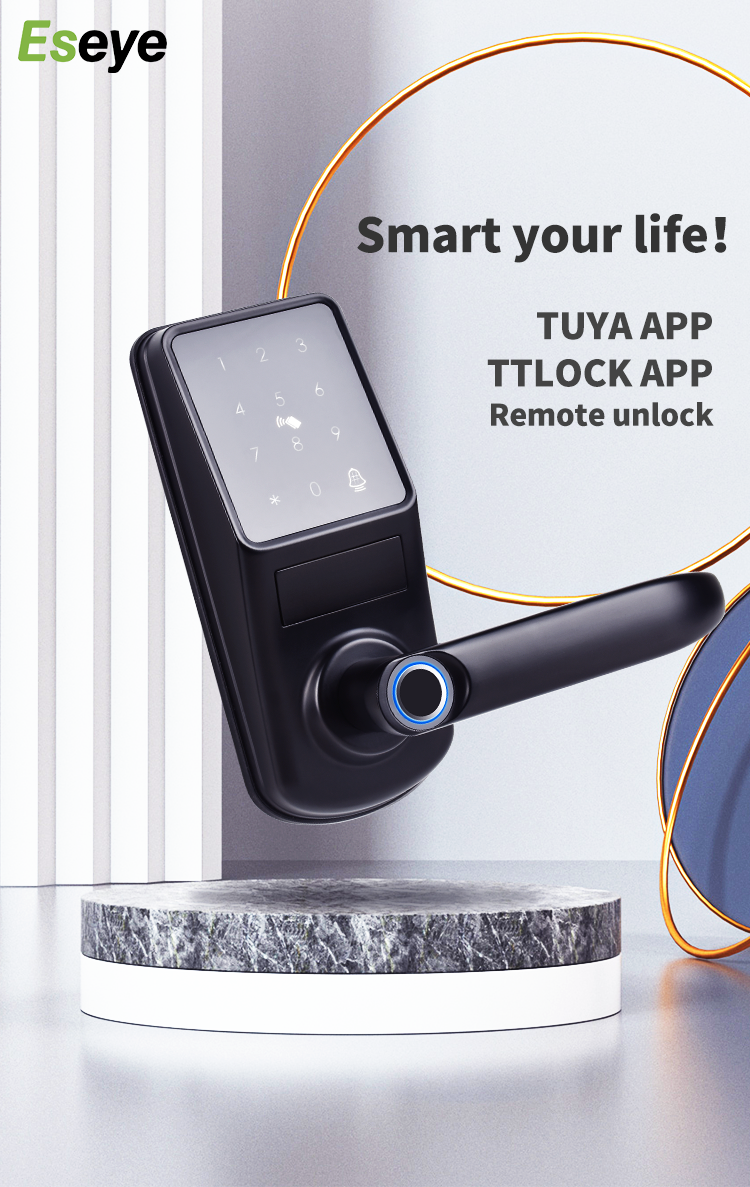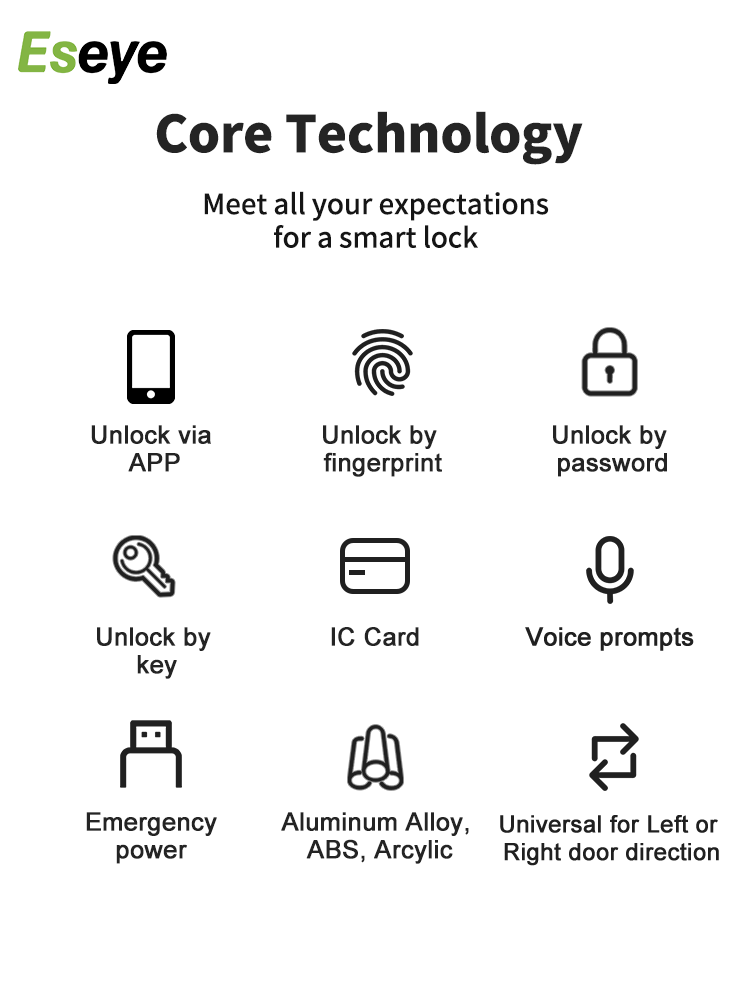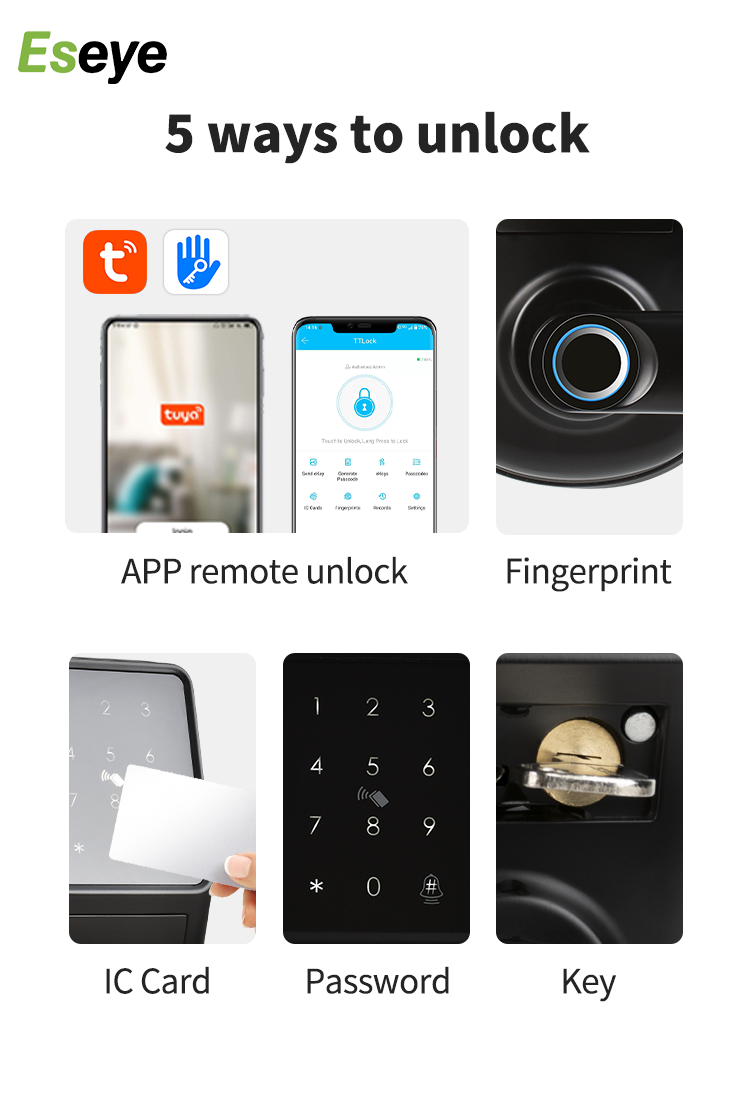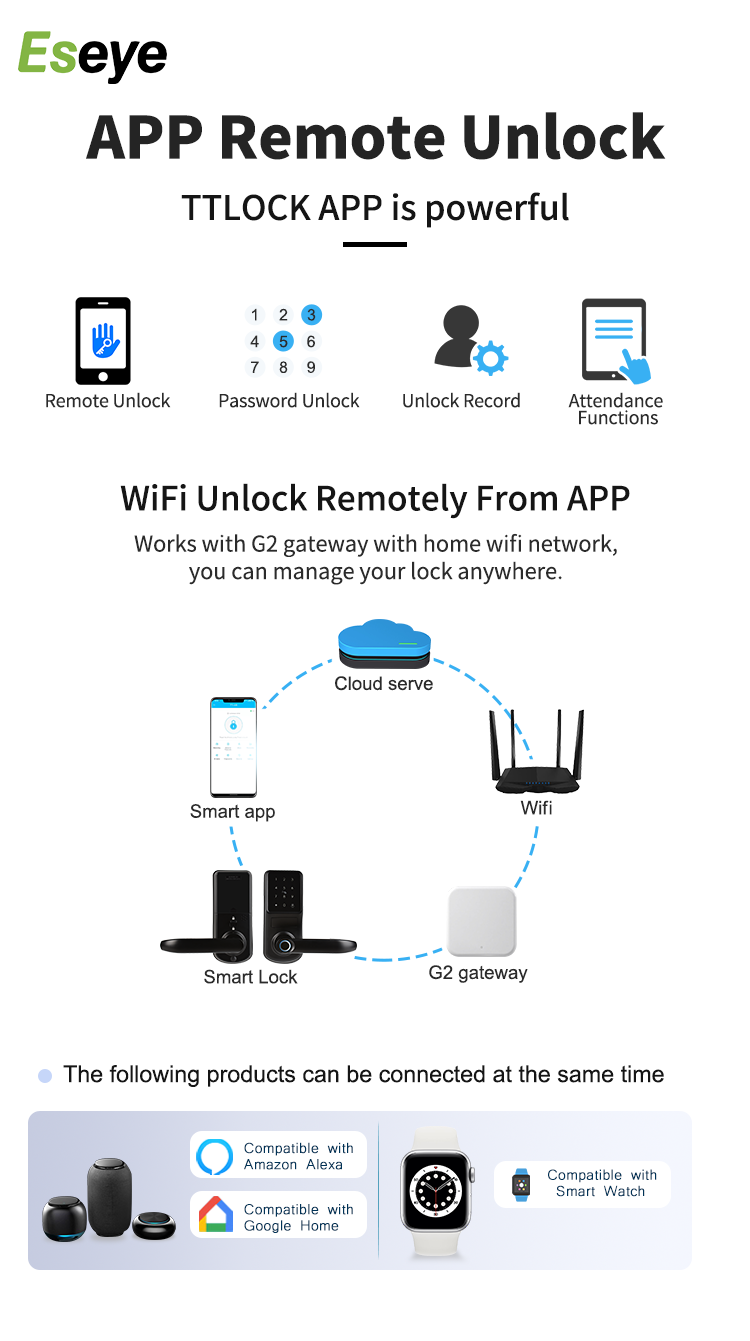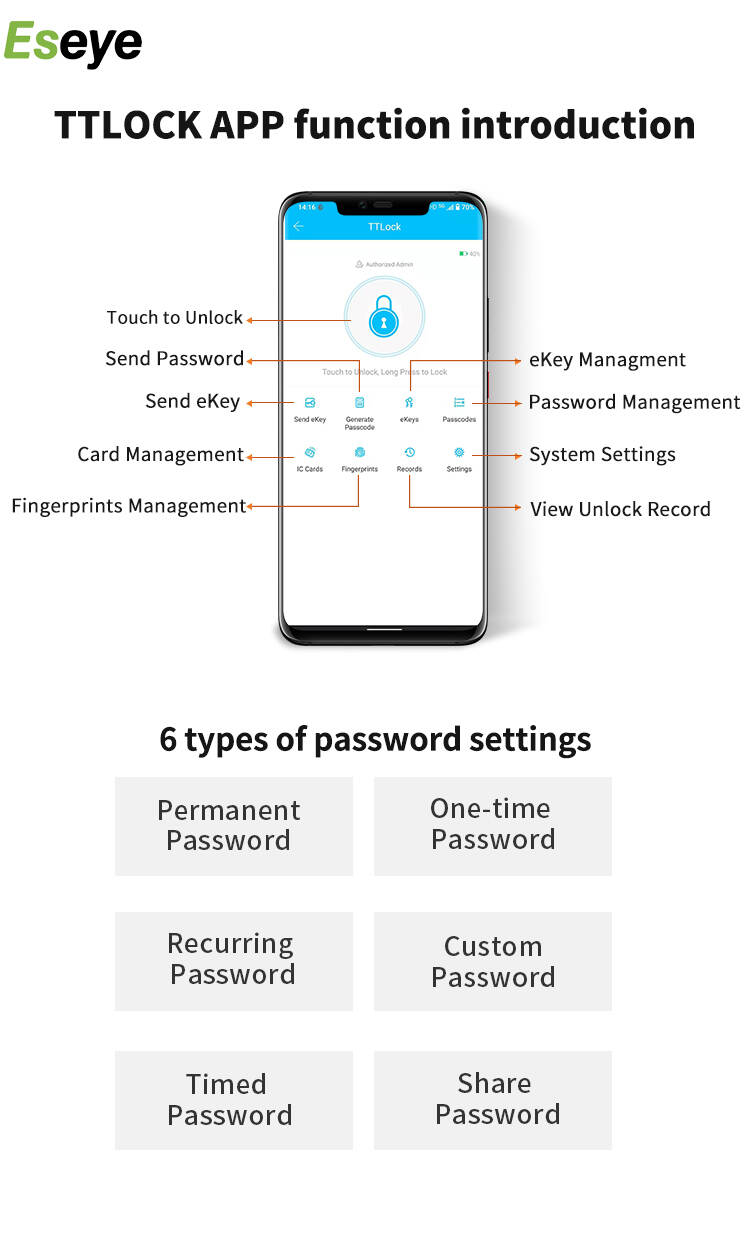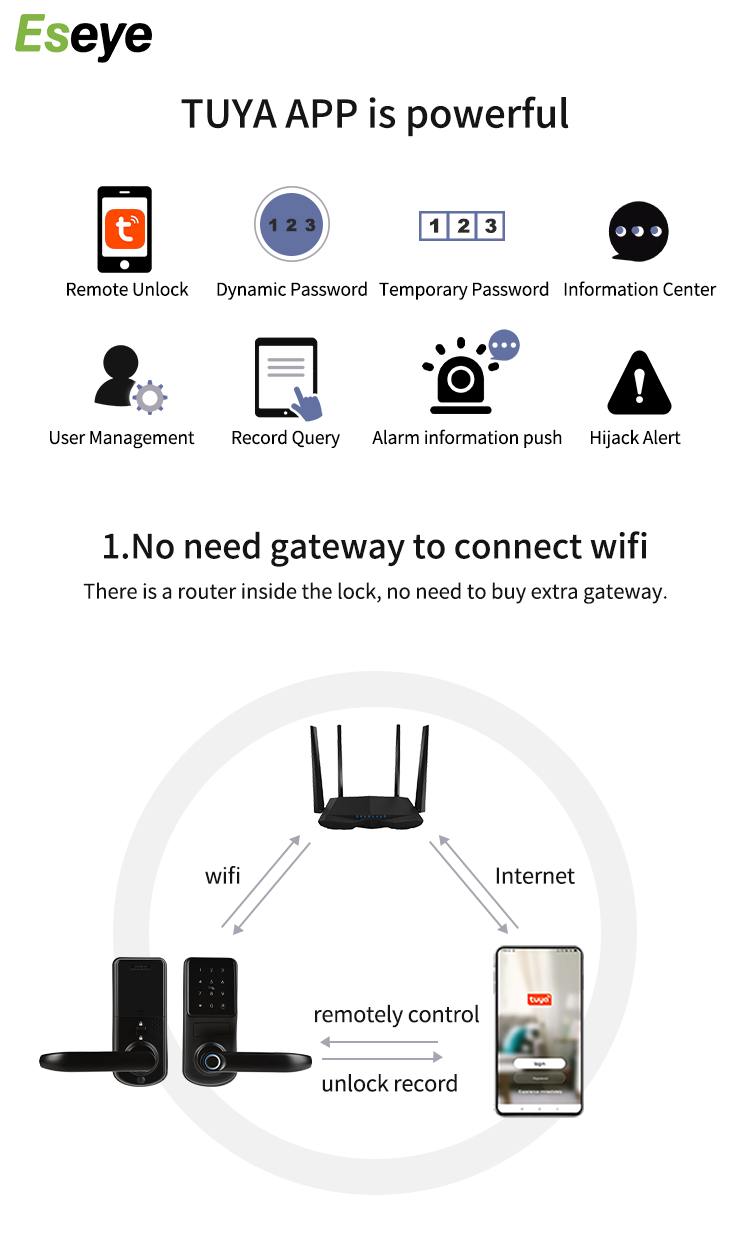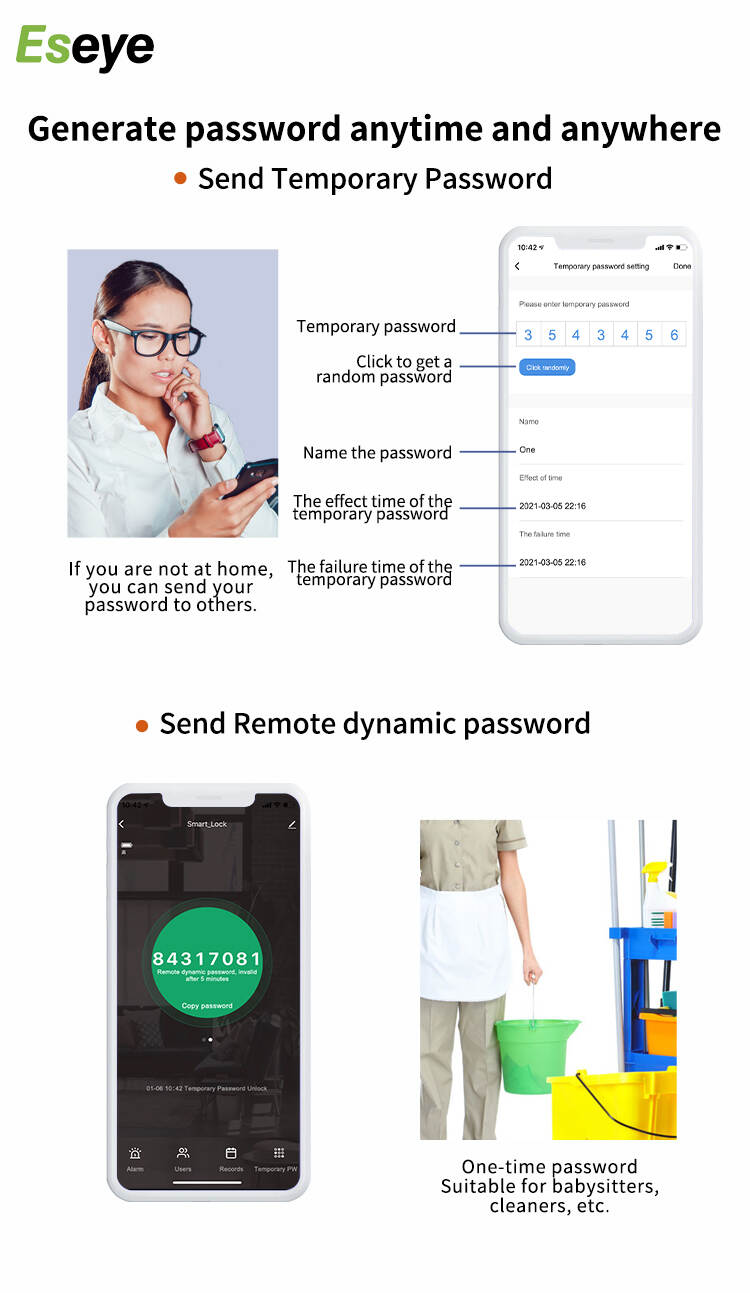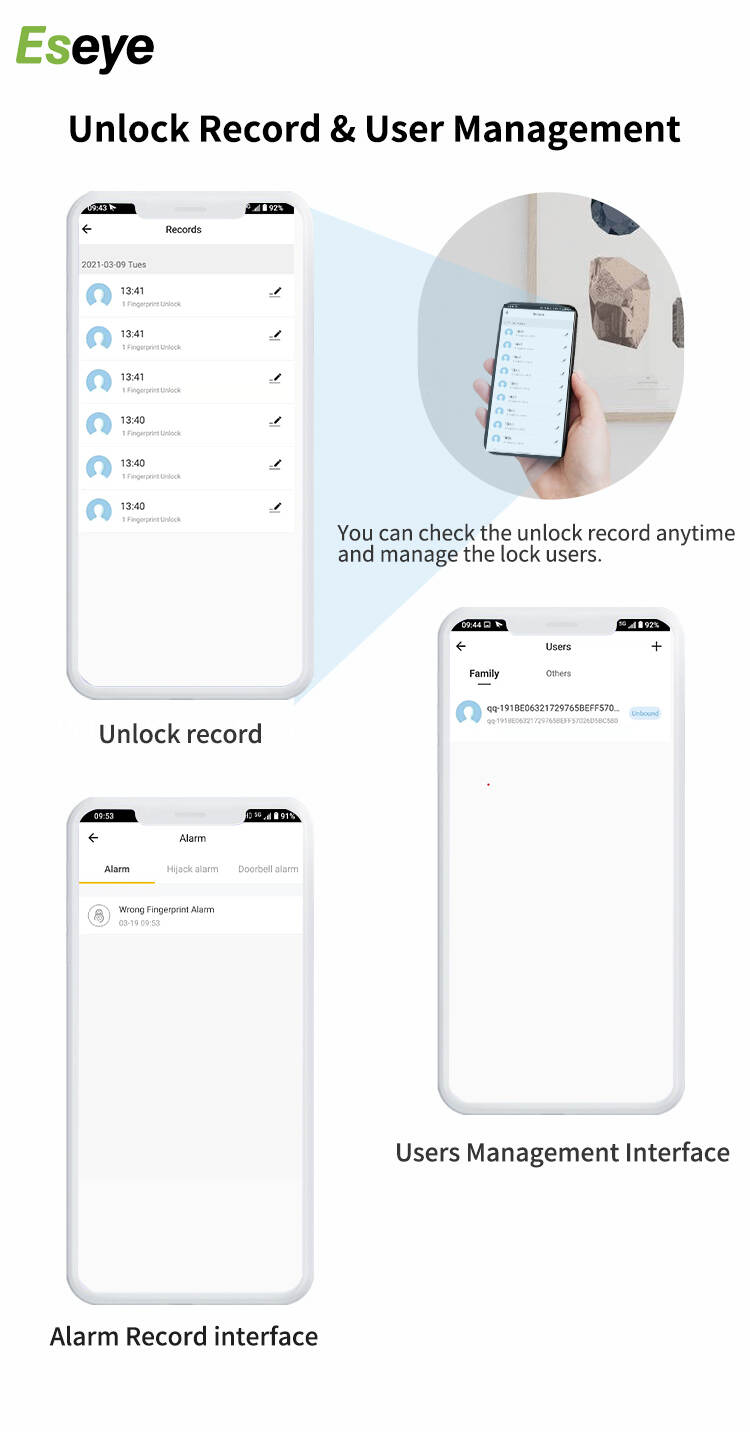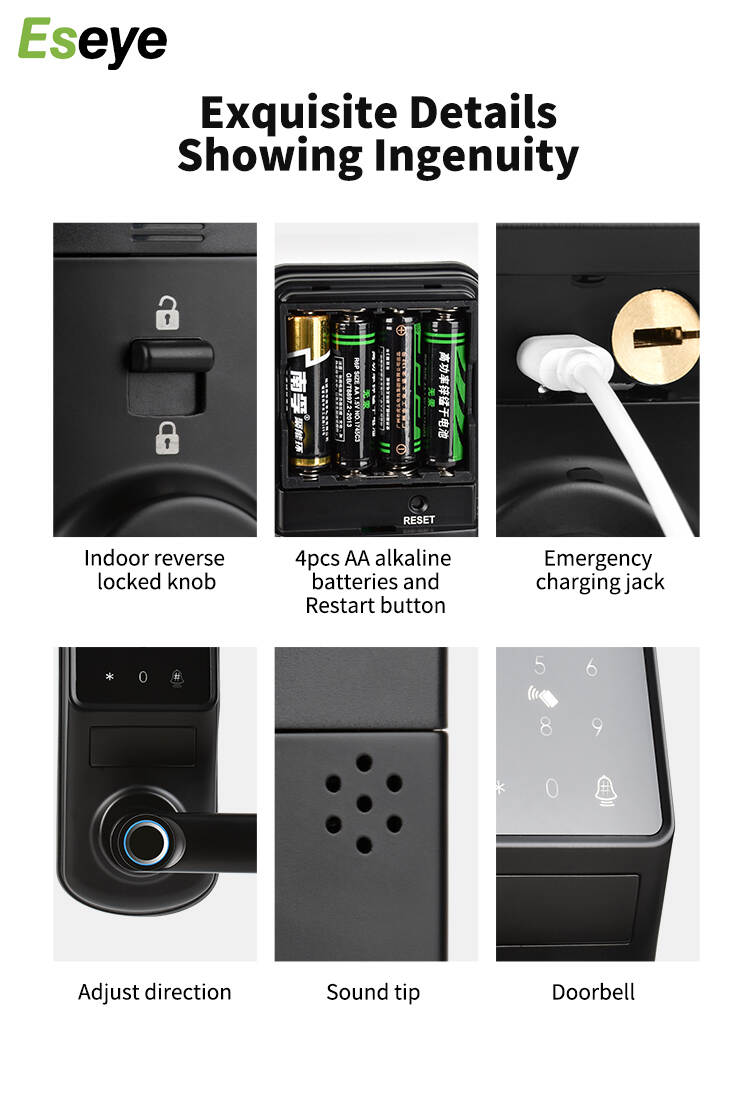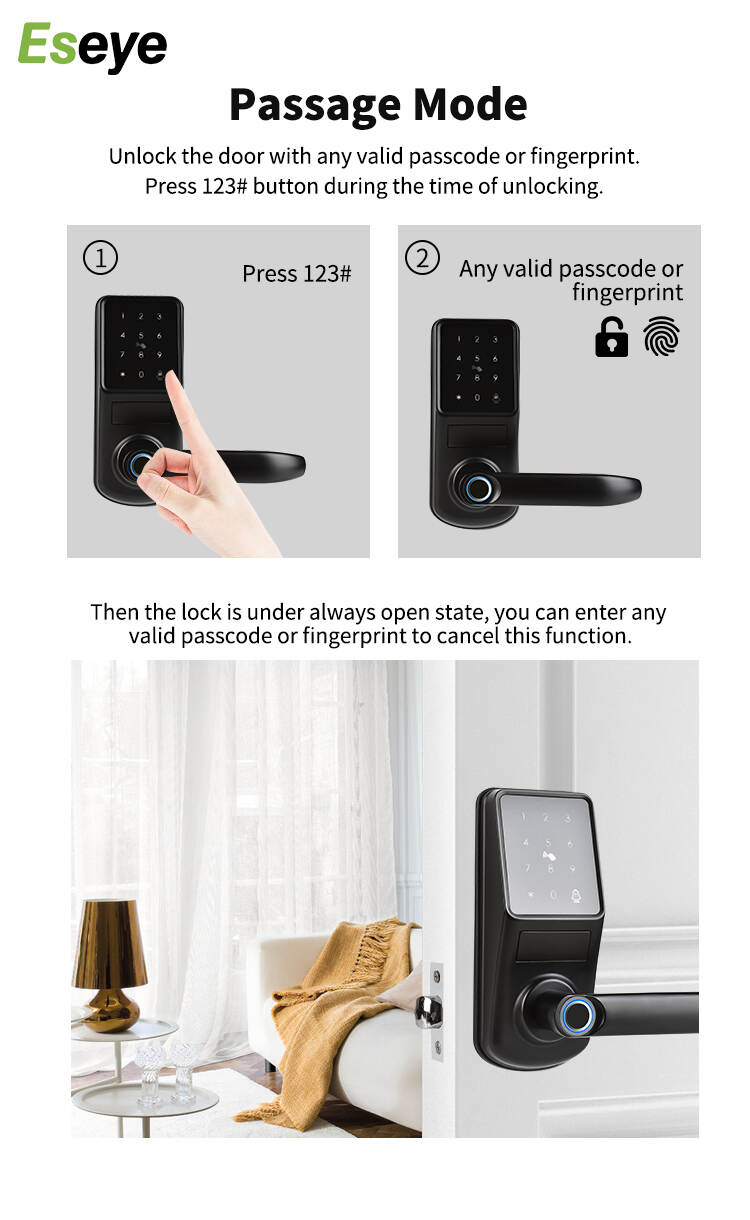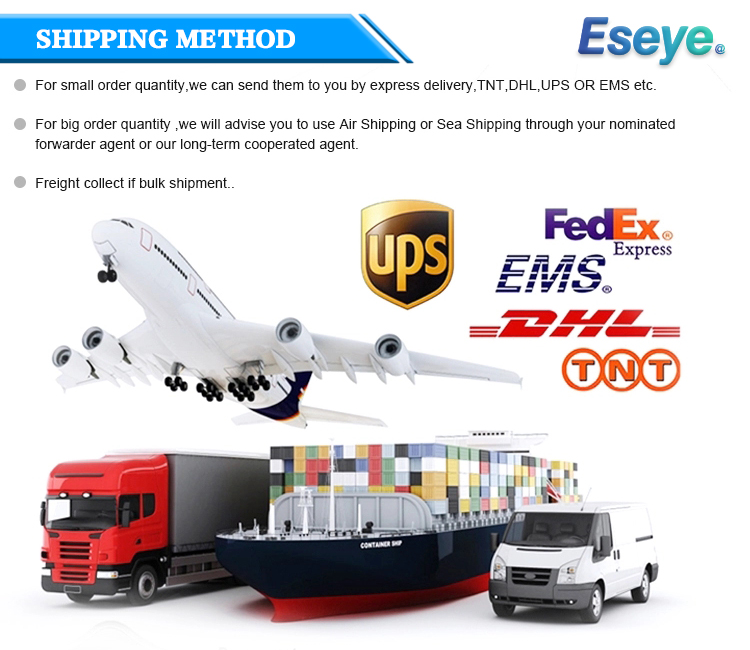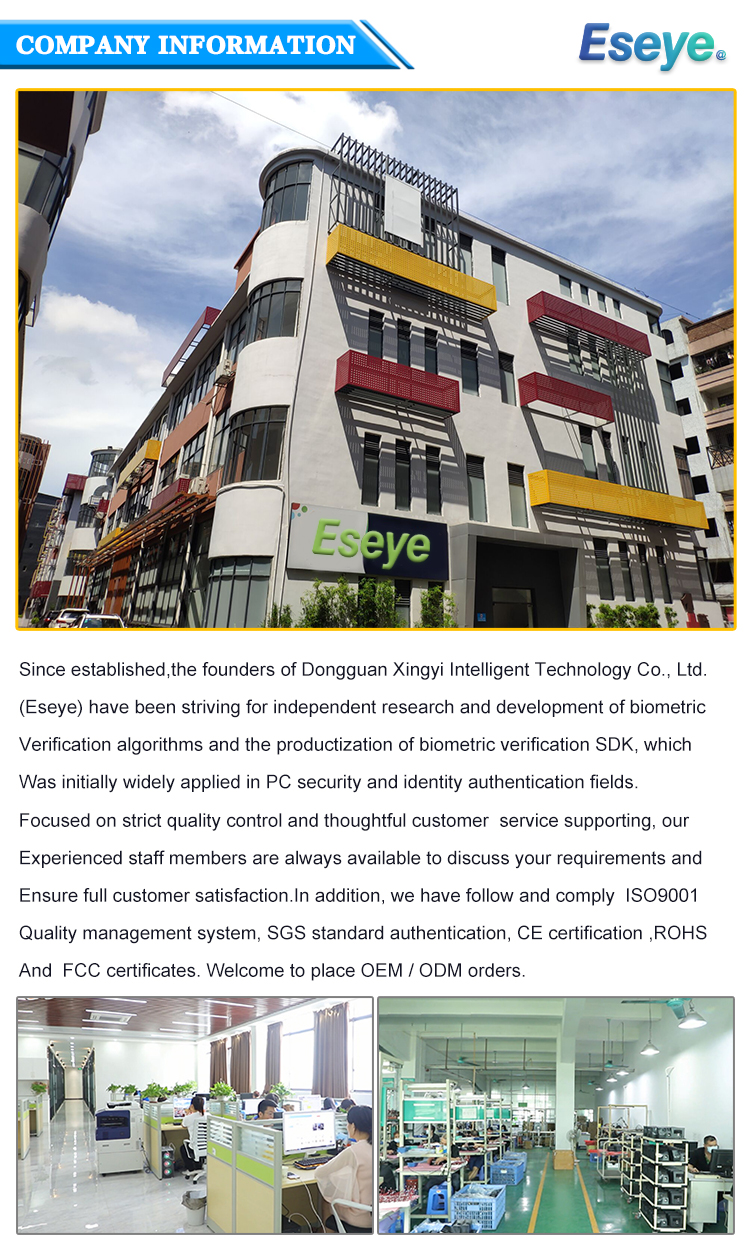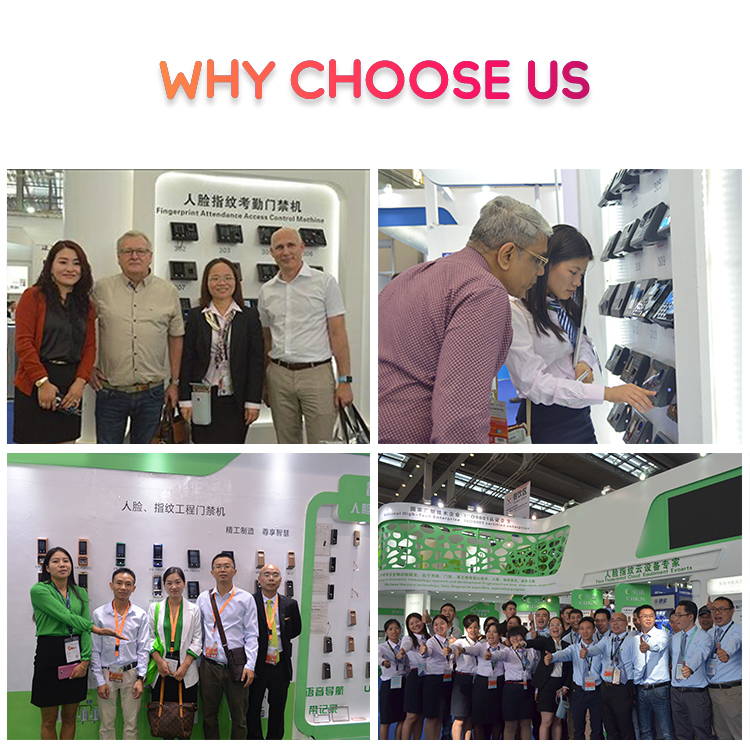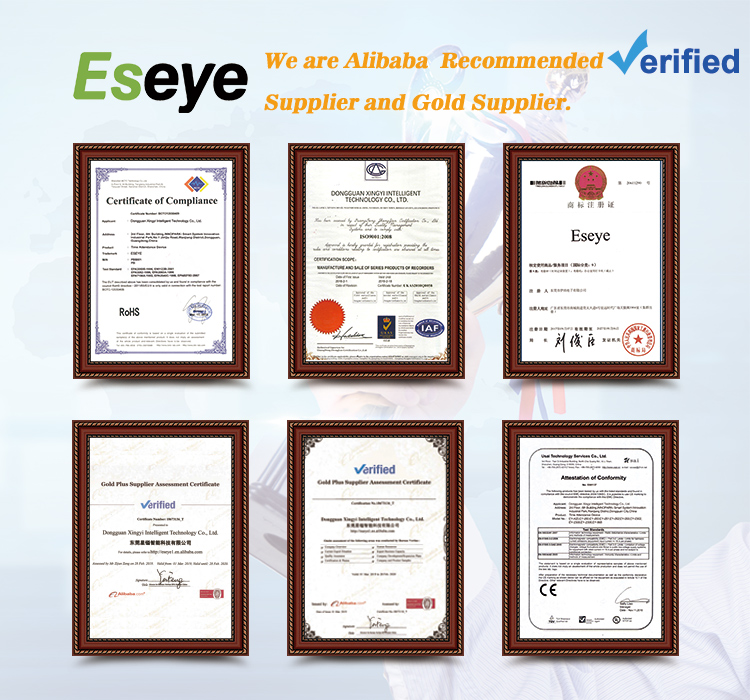 About Eseye
Dongguan Xingyi lntelligent Technology Co.,Ltd ,a professional manufacturer of biometric recognition and smart lock solutions including APP Smart Door Lock,Fingerprint Door Locks;Face Door Locks;Digital Door Locks;APP Hotel Lock,Cabinet locks; Electronic Door Locks;Fingerprint /Facial Acess Control& Time Attendance system.Also We Eseye have our own strong R&D team and devote the energy into developing high quality, newly patents, beautiful appearance, easily-assembled design ,long-term warranty and most-cost effective products.Each year We always try every effort to create intelligent and safe space with high quality to return our customer's trust and support. We Eseye Factory is qualified with certificates such as CE RoSH FCC ISO9001 and the 5S management rules in the production line to ensure the quality of finish products. To help customers promote values and realize dream is our mission.
Why Choose Us?
1.OEM/ODM ability. We are manufacturer with many experiences,can do OEM/ODM projects for clients.
2.Software/System superiority. More stable and compatible &easy to operate. We are not only selling the locks to clients, butalso providing the whole system solutions. Clients are free andrelaxed from our professional service.
3.Fast & easy communication. Our company boss and top
management are all involved in lock industry more than 10 years,quickly respond and reach to clients' need.
4.High quality products. We're confident that our product qualitycan stand the test even cooperating at the very first time.
5.Long-term development vision and great after-sales service.we cherish every sincere cooperation and provide 1 year warranty.
FAQ
Q1.Can you print customized logo on product or color box for my order?
A: Yes, we can do these for our client if the MOQ reach to 200pcs.

Q2.Can you do a sample for me?

A: Yes, sure. Shipping cost and sample are based on the buyer.

Q3.How long is your Warranty?

A: 1 year. We're not responsible for artificial & transportation damage.

Q4. What is your shipping method?

A: We'll choose the cheapest shipping way for all our clients via
DHL/UPs/TNT/Fedexlair shipment/sea shipment.
Q5.How can you assure your quality as you said?
A: We have full quality control measures for in our work shop.And we have aftersales service to support our client for software and other operation introduction.

lf any interest, please don't hesitate to contact our company Eseye , which will be astable & reliable supplier for you!
What You Should Know When Choosing A Smart Door Lock?
Many people are aware of that smart door locks are beneficial. While there are a lot of smart door locks on the market and most people do not know how to choose them. The door is your first line of defense against theft and thieves. Thus, choosing an proper door lock is significant.
Which access mode is best for you?
We've learned about the different types of access you can find in digital and smart locks. But what makes your life easier? One of the most common is the pin code. Don't worry about pressing the key. Just enter a group of numbers and you can start! If you want easy access, fingerprint access may be best for you. When the access tentacle is available in time, it is a seamless experience. However, please note that dry hands or undefined fingerprints may be bad for you in this mode. In this case, the digital lock with Bluetooth enabled may work better. You only need a smartphone or a remote key to unlock your door! Personally, RFID tags and stickers are my preferred access. Stick it to the back of the phone and I can unlock my door with a touch of the sticker - just like the contactless payment I'm used to now.
What kind of door do you have?
The most common entrance types of Singapore houses are wooden doors and metal doors. Ideally, your door should have a flat surface, and there should be enough clearance between the door and the metal door when they are closed. Some doors / gates require more adjustments and modifications to install digital locks, which may eventually result in considerable amounts. In addition, most gates need to be customized for digital lock installation, so it is best to find a professional to check whether the lock you want can be installed on your door / gate.
What functions do you need?
Some digital locks are very simple and have only basic functions, while others are fancy and advanced. Depending on your needs, see which features are most useful to you and your family. If you have children or pets in your home, features such as the child / Pet protection safety button will help prevent them from opening the door easily. If you want many guests to come to your house, it may be useful to obtain a lock with one-time visitor password function, which allows your guests to enter your house easily.
If you want to get the maximum security for your home, you can use the digital lock with tamper alarm system, keyboard security locking, password and automatic locking function to make you feel more at ease.
If you are looking for a professional wholesale Smart Handle Lock/door knob lock supplier,OEM,factory,exporter

We hope be your first choice, plz feel free to contact us.